Mozzie Style Mosquito Net Jacket
Regular price
$36.99 USD
Sale price
$36.99 USD
Unit price
per
On Sale
Out of Stock
Are you tired of being a bug magnet every time you step outside? Fear not, dear friend! This one-of-a-kind mesh jacket is like a force field against those pesky critters. Made with a noseeum grade netted material, it's so fine that even the smallest of bugs won't be able to infiltrate your personal space. And let's not forget about the glorious breeze that'll be able to dance through the jacket, keeping you cool and comfortable on even the hottest and stickiest of days. Oh, and did we mention it's snag-resistant and durable? You'll be able to wear this jacket more times than you can count. Plus, it's made without any added chemicals or insecticides, so you can feel good about protecting yourself and the environment. Just make sure to check the size chart to find your perfect fit! 
Additional Info

The modern Unisex Cut and design is attractive and stylish enough to wear on vacation, at the beach, gardening and more! Mozzie Style's gear is insecticide-free and offers another layer of protection against a variety of insects. It can be used on it's own or in combination with traditional insect repellents.
Effectiveness by Insect

Mosquitoes ⭐⭐⭐⭐⭐
Ticks ⭐⭐⭐⭐⭐
NoSeeUms ⭐⭐⭐⭐⭐
Black Flies ⭐⭐⭐⭐⭐
Bees ⭐⭐
The white jackets are slightly more effective as the color is less attractive to mosquitoes and ticks it doesn't hold in heat as well.
Materials

98% Recycled Polyester, 2% Cotton/Polyester.
Shipping and Returns

Estimated ship dimensions: 13 inches length x 10 inches width x 2 inches height
Estimated ship weight: 0.20 pounds

Return details: This item must be returned within 30 days of the purchase. See return policy (link at the bottom of the page) for complete details.
Care Instructions

Machine wash and tumble dry. Warm iron if needed.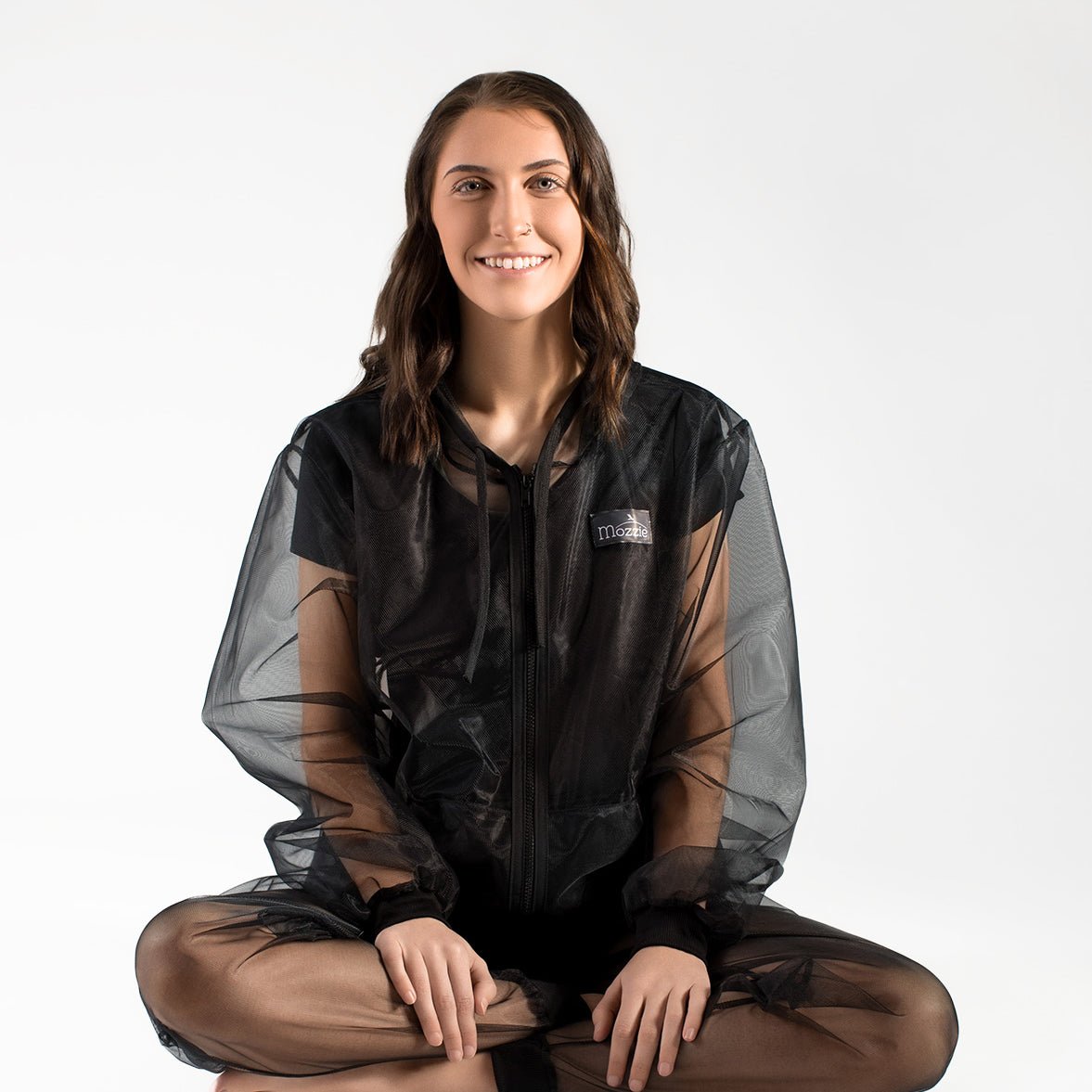 Key Features
Blocks Mosquitoes AND Noseeums!

This jacket is made with a sheer mesh that has very tiny holes that block a variety of annoying insects including ticks, mosquitoes, noseeums, black flies and more!

Made for Hot/Humid Climates

Feel the breeze even on those hot and muggy days! Our founders are in the deep South and they designed this jacket to be comfortable on those hot night and buggy evenings.

Eco-Friendly

Not only is this jacket insecticide free to keep beneficial insects like bees and butterflies safe, it's also made with 98% recycled polyester (typically made with recycled water bottles).
Drawstring Hood
Pull up the hood and use the drawstring to tighten. Great for when the bugs are going for your neck or swarming your head.
Pockets
These pockets were added by request from customers like you! Deep enough to hold your phone, and keep your hands bite free.
Soft Ribbed Knit Cuffs
The waist band and sleeves feature a soft ribbed knit band that is stretchy and comfortable. Tight enough to keep the insects from crawling up, but not as restricting as traditional elastic bands.
Watch the jacket working against mosquitoes
Works as it should - material is very scratchy
It does what it's supposed to do, and it does look decently cute for what it's intended for, but the mesh material does not feel particularly nice. I feel very itchy when I wear it.
The Mozzie Style mosquito jacket is way better than the one I was using.
Your jacket looks better, feels better, it has a zipper for easy removal, and it has pockets. I wanted this jacket, not only because mosquitoes seem to love me, but also because I want to get the morning sunshine on my skin. I do wear the shoulder portion of shirts I cut down to keep mosquitoes from biting me on the shoulder, where they actually can, because the mesh is close to the skin. With these pictures, you can see how awful the other brand is. Mozzie Style is the Rolls Royce of mosquito jackets.
IT WORKS!
Last summer I received over 48 misquito bites even using daily Picardin sprays all over. In consistently wearing these Mozzie jackets every time I go out, I literally have only received 2 bites this entire summer. These Mozzie products WORK! Takes a few days of wearing to get used to the feel but you do get used to the feel
Can't wait to test this out!